Suggested Paranormal Links
Exploring the Paranormal Meetups
If you live in Broward or Palm Beach County, Fl., join us as we explore all types of paranormal activities. Meeting once a month, we will discuss and share our own strange experiences and investigate new ones. Meetings will be informative as well as experimental.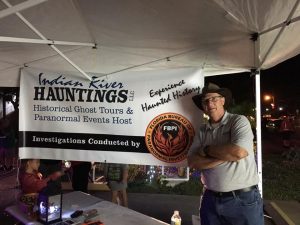 Indian River Hauntings
Historical Ghost Tours & Paranormal Events Host
We offer the opportunity for guests to participate in a paranormal adventure as we combine historical facts and haunted stories. We take a hands on approach by using investigative methods where guests can use equipment to see for themselves what can and cannot be explained.
Traveling Museum of the Paranormal & Occult
We're Greg Newkirk and Dana Matthews, the founders and curators of the Traveling Museum of the Paranormal & Occult, the world's only museum full of haunted, historical, and supernaturally-significant artifacts that comes to you. We've been preserving and protecting items of interest for decades, but we need your help to continue our mission.
By becoming a member of the Traveling Museum of the Paranormal & Occult, you'll help the museum grow and get exclusive access to incredible files, members-only events in the world's most haunted locations, loads of museum goodies, and more awesome stuff. Plus, you'll get the satisfaction of knowing you're making history in the process.